A slave trader's statue in Bristol has been torn down and thrown into the harbour during a second day of anti-racism protests across the UK.
It comes after largely peaceful demonstrations in London on Saturday ended in some clashes with police.
Metropolitan Police Commissioner Cressida Dick urged protesters to find another way to make their views heard.
But thousands of protesters massed for a second day outside the US embassy in London before moving towards Whitehall.
Other protests have been taking place in Manchester, Wolverhampton, Nottingham, Glasgow and Edinburgh.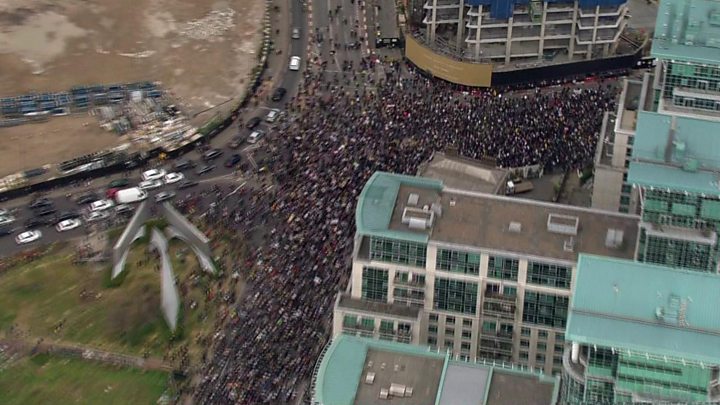 In Bristol, protesters used ropes to pull down the bronze statue of Edward Colston, a prominent 17th Century slave trader, who has been a source of controversy in the city for many years.
Colston was a member of the Royal African Company, which transported about 80,000 men, women and children from Africa to the Americas.
On his death in 1721, he bequeathed his wealth to charities and his legacy can still be seen on Bristol's streets, memorials and buildings.
After the statue was toppled, a protester posed with his knee on the figure's neck – reminiscent of the video showing George Floyd, the black man who died while being restrained by a Minnesota police officer.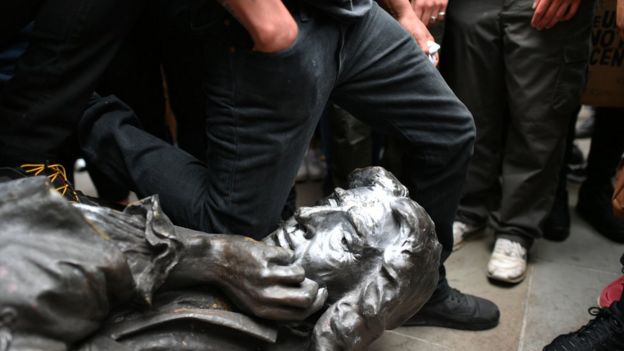 The statue was later dragged through the streets of Bristol and thrown into the harbour. The empty plinth was used as a makeshift stage for protesters.
Home Secretary Priti Patel called the tearing down of the statue "utterly disgraceful", adding that "it speaks to the acts of public disorder that have become a distraction from the cause people are protesting about".
"It's right the police follow up and make sure that justice is undertaken with those individuals that are responsible for such disorderly and lawless behaviour," she said.
In a statement, Avon & Somerset police confirmed there would be an investigation into the "act of criminal damage".
Historian Prof David Olusoga told BBC News that the statue should have been taken down long before.
He said: "Statues are about saying 'This was a great man who did great things.' That is not true, he [Colston] was a slave trader and a murderer."
In a statement the Mayor of Bristol Martin Rees said he knew the removal of the statue would divide opinion but it was "important to listen to those who found the statue to represent an affront to humanity".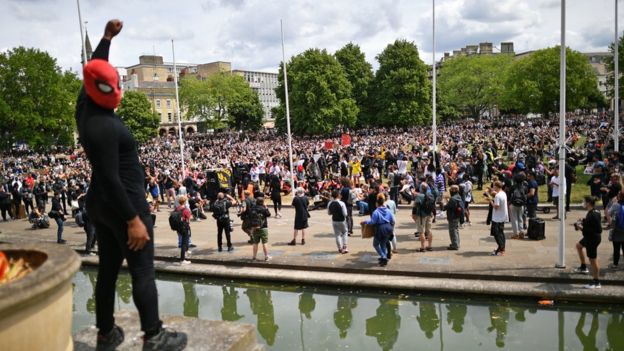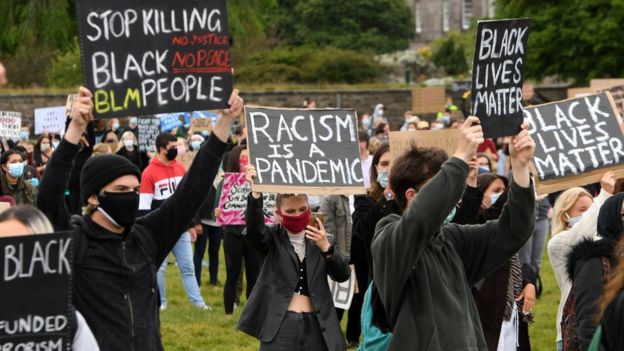 Aerial footage in London showed thousands more protesters flooding the roads outside the US embassy in Vauxhall, south London before marching towards Parliament Square and Downing Street.
They appeared to be ignoring warnings from both the police commissioner and Health Secretary Matt Hancock not to congregate and risk spreading the coronavirus.
But free masks, gloves and hand gel were being handed out by volunteers.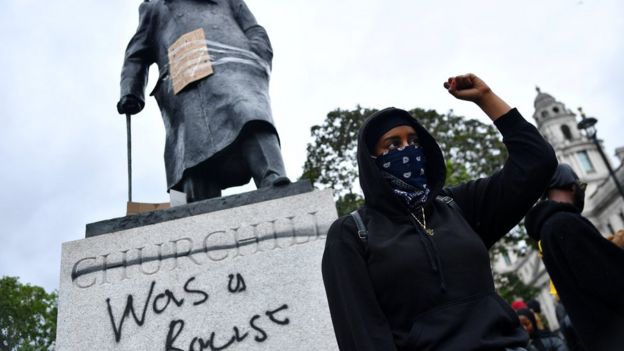 In Parliament Square, the statue of Sir Winston Churchill was sprayed with graffiti, and a Black Lives Matter sign attached – an act described as "stupid and counterproductive" by foreign office minister James Cleverly.
Bottles were thrown at police who caught someone trying to pull down a flag at the Cenotaph at around 20:45 BST. The crowd shouted "no justice, no peace" as they moved down Whitehall and let off smoke bombs. Soon after police formed a line, creating a wall and pushing back protesters from the scene.
In Warwickshire, protesters caused the closure of the M6 for around an hour following on from the demonstrations in Coventry city centre.